Magical, marvelous Monday is here one more time and the opportunity for science talk is upon us all. Time to brighten your day with selections from science sites around the globe. New discoveries, new takes on old knowledge, and other bits of news are all available for the perusing in today's information world. Today's tidbits include an odd carnivorous dinosaur from Madagascar, a dinosaur egg study supports an evolutionary link between birds and dinosaurs, scientists see nanoparticles form real structures in real time, and gold nanoparticles found in everyday materials can inhibit fat storage and accelerate aging.
Pull up that comfy chair and grab a spot near the window. There is always plenty of room for everyone. Another session of Dr. Possum's science education, entertainment, and potluck discussion is set to begin.
Featured Stories
The first new dinosaur species from Madagascar in decades fills some gaps in the fossil record.
Dahalokely tokana (pronounced "dah-HAH-loo-KAY-lee too-KAH-nah") is estimated to have been between nine and 14 feet long, and it lived around 90 million years ago. Dahalokely belongs to a group called abelisauroids, carnivorous dinosaurs common to the southern continents. Up to this point, no dinosaur remains from between 165 and 70 million years ago could be identified to the species level in Madagascar–a 95 million year gap in the fossil record. Dahalokely shortens this gap by 20 million years.

The fossils of Dahalokely were excavated in 2007 and 2010, near the city of Antsiranana (Diego-Suarez) in northernmost Madagascar. Bones recovered included vertebrae and ribs. Because this area of the skeleton is so distinct in some dinosaurs, the research team was able to definitively identify the specimen as a new species. Several unique features--including the shape of some cavities on the side of the vertebrae--were unlike those in any other dinosaur. Other features in the vertebrae identified Dahalokely as an abelisauroid dinosaur.
Finding a small North American dinosaur that hatched its eggs like birds supports an evolutionary
relationship between dinosaurs and birds
.
As dinosaurs' closest living relatives, crocodiles and birds offer some insights.

Scientists know that crocodiles and birds that completely bury their eggs for hatching have eggs with many pores or holes in the eggshell, to allow for respiration.

This is unlike brooding birds which don't bury their eggs; consequently, their eggs have far fewer pores.

The researchers counted and measured the pores in the shells of Troodon eggs to assess how water vapour would have been conducted through the shell compared with eggs from contemporary crocodiles, mound-nesting birds and brooding birds.
For the first time scientists have seen
nanoparticles form larger structures in real time
.
The scientists exposed a tiny liquid "cell" or pouch that contained gold nanoparticles covered with a positively charged coating to an intense beam of electrons generated with a transmission electron microscope. Some of the electrons that penetrated the outside of the cell became trapped in the fluid medium in the cell. These "hydrated" electrons attracted the positively charged nanoparticles, which in time reduced the intensity of charge of the positive coating.

As the hydrated electrons reduced the coating's positive charge, the nanoparticles no longer repelled each other as strongly. Instead, their newfound relative attraction led the nanoparticles to "jump around" and eventually stick together in long chains. This self-assembly of nanoparticle chains had been detected before in different studies, but this technique allowed researchers, for the first time, to observe the phenomenon as it occurred.
The process of assembly offers the possibility of new materials so the study continues.
As the use of nanoparticles for everyday materials becomes more widespread we get news that gold nanoparticles may inhibit fat storage and increase wrinkling.
Subcutaneous adipose tissue acts as insulation from heat and cold, functions as a reserve of nutrients, and is found around internal organs for padding, in yellow bone marrow and in breast tissue.

They (the researchers) discovered that the human adipose-derived stromal cells – a type of adult stem cells – were penetrated by the gold nanoparticles almost instantly and that the particles accumulated in the cells with no obvious pathway for elimination. The presence of the particles disrupted multiple cell functions, such as movement; replication (cell division); and collagen contraction; processes that are essential in wound healing.

According to the researchers, the most disturbing finding was that the particles interfered with genetic regulation, RNA expression and inhibited the ability to differentiate into mature adipocytes or fat cells.
Knucklehead's Photo of the Week
Let the Big Dog Loose


©Knucklehead, all rights reserved, presented by permission. Click on the image to see more in the series.
Other Worthy Stories of the Week
Physics as art: Photos of giant particle colliders
Coming to your neighborhood: Giant animal invaders
Star factory in the early universe challenges galaxy evolution theorySupernova remnant
Distant blazar is high energy astrophysics puzzle
Revolutionary new device joins the world of smart electronics
Coelanth genome surfaces
How to target an asteroid
Frog-like robot will help surgeons
For even more science news:
General Science Collectors:
Alpha-Galileo
BBC News Science and Environment
Eureka Science News
LiveScience
New Scientist
PhysOrg.com
SciDev.net
Science/AAAS
Science Alert
Science Centric
Science Daily
Scientific American
Space Daily
Blogs:
All-GeoGeology and Earth science
Cantauri Dreams space exploration
Deep Sea News marine biology
List of Geoscience Blogs
Science20.com
Science Blogs
Space Review
Scientific Blogging.
Space.com
Techonology Review
Tetrapod Zoology vertebrate paleontology
Wired News
Science RSS Feed: Medworm
The Skeptics Guide to the Universe--a combination of hard science and debunking crap
At Daily Kos:
This Week in Science by DarkSyde
Overnight News Digest:Science Saturday by Neon Vincent. OND tech Thursday by rfall.
All diaries with the DK GreenRoots Tag.
Astro Kos
SciTech at Dkos.
NASA picture of the day. For more see the NASA image gallery or the Astronomy Picture of the Day Archive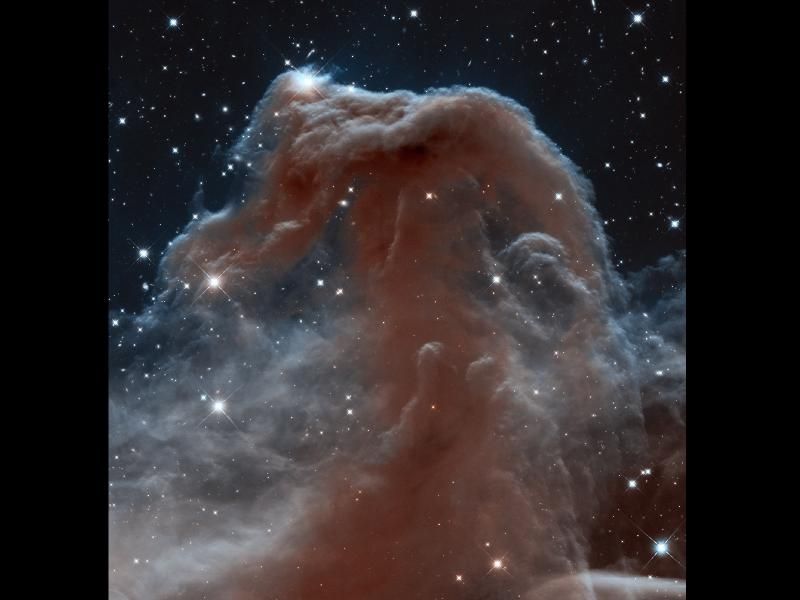 Horsehead Nebula in Infrared, Hubble photo, NASA, Public Domain