Spring has sprung in Possum Valley as the daffodils are blooming and the days lengthen one by one. Monday is here one more time and the opportunity for science talk is here again. Time to brighten your day with selections from science sites around the globe. New discoveries, new takes on old knowledge, and other bits of news are all available for the perusing in today's information world. Today's tidbits include swarming robots could be the servants of the future, evidence of an early prehistoric reptile (Placodont) that originated in Europe, the summer melt season is getting longer on the Antarctic peninsula, and scientists image deep magma beneath Pacific seafloor volcano.
Pull up that comfy chair and grab a spot near the window. There is always plenty of room for everyone. Another session of Dr. Possum's science education, entertainment, and potluck discussion is set to begin.
Featured Stories
As advances in robotics continue the time of science fiction stories and robotic servants may just come true.
...swarming robots could have important roles to play in the future of micromedicine, as 'nanobots' are developed for non-invasive treatment of humans.

On a larger scale, they could play a part in military, or search and rescue operations, acting together in areas where it would be too dangerous or impractical for humans to go. In industry too, robot swarms could be put to use, improving manufacturing processes and workplace safety.

The programming that the University of Sheffield team has developed to control the robots is deceptively simple. For example, if the robots are being asked to group together, each robot only needs to be able to work out if there is another robot in front of it. If there is, it turns on the spot; if there isn't, it moves in a wider circle until it finds one.
A 246-million-year-old skull resolves the mystery of the origin of
Placodonts
, among the first prehistoric marine reptiles.
For around 50 million years, placodonts populated the flat coastal regions of the Tethys Ocean, in modern day Europe and China. The most distinctive feature of these dinosaurs was their teeth: The upper jaw had two rows of flattened teeth -- one on the palate and one on the jawbone -- while the lower jaw only had one set of teeth ideal for crushing shellfish and crustaceans.

The evolutionary origins of these placodonts remained unclear. However, a new find in a 246-million-year-old sediment layer now sheds light on the origin and phylogenetic development of the placodonts.
Climate change continues and new evidence of that effect shows the
summer melt season lengthening on the Antarctic peninsula
.
The Antarctic Peninsula — a mountainous region extending northwards towards South America — is warming much faster than the rest of Antarctica. Temperatures have risen by up to 3°C since the 1950s — three times more than the global average. This is a result of a strengthening of local westerly winds, causing warmer air from the sea to be pushed up and over the peninsula. In contrast to much of the rest of Antarctica, summer temperatures are high enough for snow to melt.

Aside from contributing directly to sea-level rise, this summer melting may have other important effects. Meltwater may enlarge cracks in floating ice shelves which can contribute to their retreat or collapse. As a result, the speed at which glaciers flow towards the sea is increased. Also, melting and refreezing causes snow layers to become thinner and more dense, affecting the height of the snow surface above sea level. Scientists need to know this so they can interpret satellite data correctly.
Understanding the formation of the sea floor took on a new dimension with the
imaging of deep magma
beneath an undersea volcano.
Using electromagnetic technology developed and advanced at Scripps, the researchers mapped a large area beneath the seafloor off Central America at the northern East Pacific Rise, a seafloor volcano located on a section of the global mid-ocean ridges that together form the largest and most active chain of volcanoes in the solar system. By comparison, the researchers say the cross-section area of the melting region they mapped would rival the size of San Diego County.
Knucklehead's Photo of the Week
WELLSI BRAIN DSCN7369
©Knucklehead, all rights reserved, presented by permission. Click on the image to see more in the series.
Other Worthy Stories of the Week
Islands seen from space
Lunar cycle determines the hunting behavior of nocturnal gulls
Hunting high mass stars with Herschel
Imaging methodology reveals nano details not seen before
Robotic ants mimic real colony behavior
Hubble observes the hidden depths of Messier 77
Controversial worm keeps its position as progenitor of humankind
New type of solar structure cools even in the sun
Decoding the genome of the Texas longhorn
Which came first the head or the brain?
A comet heads for Mars
Shape shifting neutrino backed by rare finding
Study finds fungi, not plant matter, responsible for most carbon sequestration in northern forests
Study says wastewater injection spurred biggest earhtquake yet
For even more science news:
General Science Collectors:
Alpha-Galileo
BBC News Science and Environment
Eureka Science News
LiveScience
New Scientist
PhysOrg.com
SciDev.net
Science/AAAS
Science Alert
Science Centric
Science Daily
Scientific American
Space Daily
Blogs:
All-GeoGeology and Earth science
Cantauri Dreams space exploration
Deep Sea News marine biology
List of Geoscience Blogs
Science20.com
Science Blogs
Space Review
Scientific Blogging.
Space.com
Techonology Review
Tetrapod Zoology vertebrate paleontology
Wired News
Science RSS Feed: Medworm
The Skeptics Guide to the Universe--a combination of hard science and debunking crap
At Daily Kos:
This Week in Science by DarkSyde
Overnight News Digest:Science Saturday by Neon Vincent. OND tech Thursday by rfall.
All diaries with the DK GreenRoots Tag.
Astro Kos
SciTech at Dkos.
NASA picture of the day. For more see the NASA image gallery or the Astronomy Picture of the Day Archive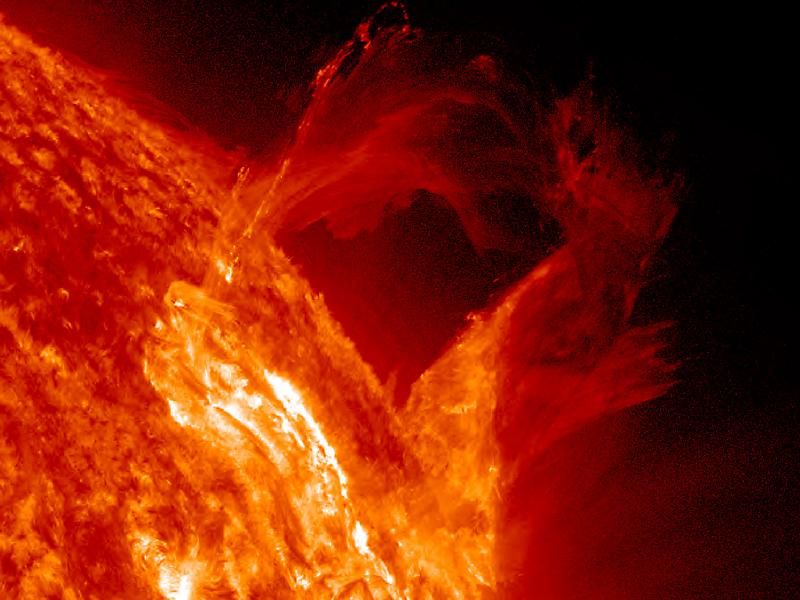 Solar Prominenc, NASA, Public Domain